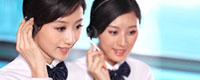 Name: Eric Chen
Tel: +86-535-8088266
Mobile: +86-18663815259
E-mail: info@starkinstrument.com
Skype: jackie.chan-chemins
QQ: 294772396




Product name : JIDI-12DH Mini High Speed Centrifuge

Product No. : JIDI-12DH
Details:

The JIDI-12DH mini high-speed centrifuge has a novel and unique appearance, and is smart and versatile. It is equipped with two centrifugal rotors and a variety of test tube sets. It is suitable for 1.5ml, 0.5ml, 0.2ml centrifuge tubes and 0.2mL, 8-row centrifuge tubes for PCR. Humanized design, with flip switch function, automatic stop when opening the cover (stop when opening the cover), and with electronic timing and speed adjustable functions. The fully transparent spherical upper cover and multi-rotor equipment achieve the best effect in the pursuit of creativity and simplicity, and inject humanity into scientific research and rational laboratory products.

Efficient three-in-one rotor with a large radius of 8 holes, compatible with three centrifuge tubes of 1.5ml, 0.5ml, and 0.2ml;
Adopting high-frequency and wide-voltage power supply technology, with an input voltage range of 85-265V Ac, universal, ensuring operation;
Equipped with LED digital display, time and speed can be set, more scientific and rigorous;
Ultra-low noise, stable operation, maintenance-free motor is durable, safe and reliable.
The whole machine is guaranteed for two years (24 months).

Model

JIDI-12DH

Max speed

12000r/min

Maximum relative centrifugal force

7500×g

Timing range

1~ 99min

Power supply

AC 85-265V 50-60 HZ

Noise

≤45dB (A)

Weight

1.2Kg

Maximum capacity

8x1.5mL/2.0mL, 4x8x0.2mL tube,

PCR plate rotor

Power

45W

Dimensions

196 x 176 x 122 (mm)
Fitting Rotors

There are many different types of rotors and
different capacities
rotor adapters for optional, please feel free to contact us for more details.


It is mainly used in biochemistry, medical and health, food safety, life sciences, agriculture and forestry sciences, animal husbandry sciences, blood banks, blood stations, biological products, pharmaceutical products and other fields. Ideal equipment for sample separation, precipitation and concentration preparation. It is an ideal equipment for all levels of hospitals. It is a necessary instrument for centrifugal separation in scientific research institutions and universities.