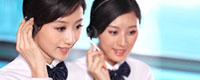 Name: Eric Chen
Tel: +86-535-8088266
Mobile: +86-18663815259
E-mail: info@starkinstrument.com
Skype: jackie.chan-chemins
QQ: 294772396




Product name : 930F Fluorescence Spectrophotometer

Product No. : 930F
Details:
Product Overview

The 930F model is a variable-wavelength-adjustable fluorescence spectrophotometer, with a standard excitation (EX) wavelength of 365 nm, an emission (EM) wavelength range of 300-700 nm and a spectral bandwidth of 12 nm.The 7-inch color touch screen applies professional technology to empower effective human-computer interaction. The USB communication port is used for online operation to facilitate the further calculation and processing of data and time saving,with the universaldata processing software package, which is optional.
The instrument is widely used in biochemical, medical, food, environmental protection, chemical and other departments for quantitative and qualitative analysis. It is an ideal instrument for laboratory and factory inspection.



Main Features
● The emission monochromatoradopts a 1200 g/mmgrating and a large-aperture aspherical reflector with a particularly high sensitivity.

● The high-brightness and long-lasting LED light source ensures the high stability of the test.

● A newly designed sample cell holder ensures a wide variety of test methods.

● The high-performance photomultiplier tube is used for the optimal signal-to-noise ratio.

● Automatic zeroing and background deduction.

● Real-time display of fluorescence and concentration values.

● Direct reading ofsingle point standard concentration.

● Multi-point linear regression can be performed at any time with the universal data processing software package.

● The extremely wide dynamic range of fluorescence can accurately determine small changes in the sample.


Technical Specifications
●

Light source: the light source assemblyconsists of LED cold light source and interference filter


●

The standard configuration wavelength isthe LED excitation light source with wavelength of 365nm (the optical path is pre-adjusted by the factory).


●

Within the range of 300-700nm, users can order other excitation light source assemblywhen ordering.


●

Monochromator: C-T diffraction grating monochromator (Em300-700nm, bandwidth 12nm)


●

Emission wavelength accuracy: ±2nm


●

Emission wavelength repeatability: ≤1nm


●

Sensitivity: Quinine sulfate detection limit is 5×10-10


●

Linear correlation coefficient: ≥ 0.995


●

Zero drift: ±0.3% (within 10 min)


●

Peak intensity reproducibility: ≤ 1.5%


●

Supply voltage: 220V±22V, 50Hz±1Hz


●

Power: 100W