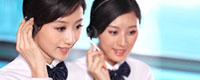 Name: Eric Chen
Tel: +86-535-8088266
Mobile: +86-18663815259
E-mail: info@starkinstrument.com
Skype: jackie.chan-chemins
QQ: 294772396




Product name : Industrial Online Dissolved Oxygen Controller

Product No. : DOG-2092
Details:
Overview
DOG-2092 has special price advantages due to its simplified functions on the premise of guaranteed performance. The clear display, simple operation and high measuring performance provide it with high cost performance. It can be widely used for continuous monitoring of the dissolved oxygen value of the solution in thermal power plants, chemical fertilizer, metallurgy, environmental protection, pharmacy, biochemical engineering, foodstuff, running water and many other industries. It can be equipped with DOG-209F Polarographic Electrode and can do ppm level measurement.


Features
DOG-2092 is a precision instrument used for testing and control of dissolved oxygen. The instrument has all the
parameters for microcomputer storing, caluating and compensating of the related measured dissolved
oxygen values; DOG-2092 can set the relevant data, such as elevation and salinity. It is also featured by complete
functions, stable performance and simple operation. It is an ideal instrument in the field of the dissolved
oxygen test and control.
DOG-2092 adopts the backlit LCD display, with error indication. The instrument also owns the following features: automatic temperature compensation; isolated 4-20mA current output; the dual-relay control; high and
low points alarming instructions; power-down memory; no need back-up battery; data saved for more than a
decade.


Technical Parameters
1. Measuring range: 0.00~19.99mg/L Saturation: 0.0~199.9%
2. Resolution: 0. 01 mg/L 0.01%
3 Accuracy: ±1.5%F.S.
4. Control range: 0.00~19.99mg/L 0.0~199.9%
5. Temperature compensation: 0~60℃
6. Output signal: 4-20mA isolated protection output, double current output available, RS485 (optional)
7. Output control mode: On/Off relay output contacts
8. Relay load: Maximum: AC 230V 5A
Maximum: AC l l5V 10A
9. Current output load: Allowable maximum load of 500Ω.
10. On-ground voltage insulation Degree: minimum load of DC 500V
11. Operating voltage: AC 220V l0%, 50/60Hz
12. Dimensions: 96 × 96 × 115mm
13. Dimension of the hole: 92 × 92mm
14. Weight: 0.8 kg
15. Instrument working conditions:
① Ambient temperature: 5 - 35 ℃
② Air relative humidity: ≤ 80%
③ Except for the earth magnetic field, there is no interference of other strong magnetic field around.