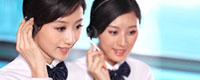 Name: Eric Chen
Tel: +86-535-8088266
Mobile: +86-18663815259
E-mail: info@starkinstrument.com
Skype: jackie.chan-chemins
QQ: 294772396




Product name : DDSJ-308A Benchtop Conductivity Meter

Product No. : DDSJ-308A
Details:
Functions

1.LCD backlit display and English operation interface

2.It can measure conductivity, TDS, salinity and temperature.

3.It functions as automatic temperature compensation, auto-calibration, measuring range switch and power failure protection.

4.Measuring results can be stored, deleted, viewed and printed. Up to 200 sets of measuring data can be stored. There are two print modes can be chosen which are real-time printing and storage printing.

5.It can set sensor constant and TDS conversion coefficient.

6.It has RS-232 port and can be connected with TP-16 printer. If matched with data collecting software, it can be communicated with PC.

7.If matched with the titanium alloy sencor of 0.01cm-1 and sealed measuring reservoir, it can test high purity water.

8.It is equipped with DJS-1C conductancesensor(platinum black) and T-818-B-6 temperaturesensor.



Technical Parameters

1.Measuring range:

Conductivity: 0.000μS/cm~199.9 mS/cm , six kinds of measuring ranges and automatic switch.

TDS: 0.000 mg/L~99.9g/L ,five kinds of measuring ranges and automatic switch.

Salinity: (0.00~8.00)%

Temperature: ( -5.0~105.0 ) ℃

2.Resolution:

Conductivity: 0.001μS/cm, 0.1mS/cm

TDS: 0.001 mg/L

Salinity: 0.01%

Temperature: 0.1℃

3.Accuracy:

Conductivity: ±0.5%F.S. 

TDS: ±0.5%F.S.

Salinity: 0.1%

Temperature: ± 0.3 ℃±1 bit
4.Stability: (± 0.3%F.S.)/3h

5.Temperature compensation range: Manual/Automatic( 0.0~50.0 ) ℃

6.Temperature compensation coefficient: adjustable

7.Power supply: general power (9V DC,500mA,inside positive and outside negative)

8.Dimension(mm): 290×200×70

9.Net Weight: 1Kg

10.Case outside serial No: WXS-A001-1

Package Size: 340*270*280mm

Gross Weight: 2 Kg

Difference between DDSJ-308F, DDSJ-308A, DDS-307A and DDS-307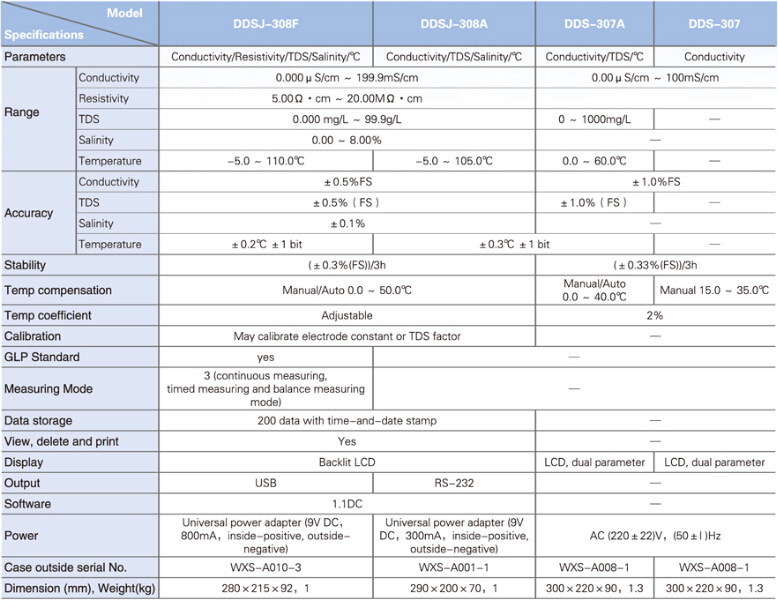 Cell Constant and Measuring Range
Electrodeconstant

(K)(cm-1)

0.01

0.1

1.0

10.0

Measuring range

0.000~9.99μS/cm

2.00~199.9μS/cm

20.0μS/cm~19.9ms/cm

200μS/cm~199.9ms/cm