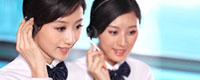 Name: Eric Chen
Tel: +86-535-8088266
Mobile: +86-18663815259
E-mail: info@starkinstrument.com
Skype: jackie.chan-chemins
QQ: 294772396




Product name : Master Touch-S ultra-pure water purification system

Product No. : Master Touch-S
Details:

Master Touch series, integrating 5.0 inch touch screen system, 3 way water quality sensor, 2 way flow sensor for quantified dispensing, single stage RO system and 2 pumps, its output ranges from 15 to 30 liters/hour with tap water inlet. And with distilled water inlet, its output is up to 2 liters/minute. With tap water inlet, it can produce single stage RO water, deionized water and ultrapure water. And with distilled water inlet, it can produce deionized water and ultrapure water. The single stage RO water´s Ion rejection rate is more than 97%. The deionized water´s resistivity is above 16MΩ.cm, and the ultrapure water´s resistivity absolutely reaches to 18.2MΩ.cm. It completely meets the highest grade I standard of ASTM, CAP, CLSI, EP and USP.

Colorful touch screen
5.0 inch colorful high-resolution touch screen (16:9) controlling system, achieve finger-touch new experience.
Comprehensive monitoring system
3 way online water quality sensor, detect the quality of feed water, RO water, deionized water, or ultrapure water respectively. And warn once water quality's standard exceeding.
2 way flow sensor, achieve quantified dispensing of RO water, deionized water, or ultrapure water.
Easy-to-replacing cartridge
Independent pretreatment design, and integrated subsequent purification unit design, with fast inserted adapters, easy to replace
Single stage RO and 2 pumps system
1st pump, to achieve single stage RO system, easy to maintain.
2nd pump, to achieve system sanitizing and circulation.
Whole plastic shell with high-strength
Excellent ergonomic design, avoid rusting and keep clean, to meet GLP standard.
USB interface and SD card
Auto running data storing function with built-in SD card, and data can be exported through the USB interface.
System sanitizing procedure, achieve the disinfection of ultrapure water´s tube and valve.
System circulation function, achieve ultrapure water´s circulation to keep top quality of ultrapure water.
All Cartridges replacing alarm function, based on time, or water quality, show cartridges´ used and residual life.
Multiple alarm function: no feed water, full water, water quality´s standard exceeding, and cartridge life ending.
Auto self-flushing of RO membrane function (interval and continuous time setting), extend RO membrane´s life.
Comprehensive Information query and management function, master system status, water quality, cartridges usage and alarm information.
System time setting (year/month/day/hour/minute), timing standby (0-60 minute), and timing shutdown (0-24 hour) function.
Level II password, protect all the parameters setting, and prohibit any unauthorized setting change.
2 kind of pure water tank (liquid level PE tank and pressure tank). Also external tanks is optional.
3 door and easy-to-replacing cartridge design, convenient to maintain system and replace cartridges.
Tube and adapter with NSF authorization and top quality, reduce TOC level and assure ultrapure water´s quality.
Optimized pretreatment (including PP fiber, KDF and active carbon cartridge), effectively protect RO membrane.
RO module with DOW´s membrane, ensure long life, stable operation and high desalinization rate.
4 in 1 ultrapure cartridge (can be divided to 4 independent cartridge) with DOW´s top polishing resin, ensure ultrapure water´s quality up to 18.2 MΩ.cm, with the lowest TOC level.
Double wavelength (185&254nm) ultraviolet lamp module, restrain bacteria´s increase and reduce TOC.
MWCO 5000D ultrafiltration module, effectively eliminate endotoxin, and suitable for precise cell cultivating and IVF.
(0.45+0.1)µm double layer PES terminal disinfection filter, assure that terminal pure water is absolutely axenic.

Name

Basic type

Depyrogenation type

Low organic matter type

Comprehensive type

Model

Master Touch-S15/30

Master Touch-S15/30UF

Master Touch-S15/30UV

Master Touch-S15/30UVF

Pure water output*

S15 series: 15 L/Hour; S30 series: 30 L/Hour

Ultra pure water output

Up to 2.0L/min(when there is water in water tank)

Ultra pure water index

Resistivity(25℃)

18.2MΩ.cm

Heavy metal ion

<0.01 ppb

Total organic carbon(TOC) *

<10 ppb

<3 ppb

Bacteria

<0.01 cfu/ml

Pyrogen (endotoxin)

N/A

<0.001 Eu/ml

N/A

<0.001 Eu/ml

Particle(>0.1μm)

<1/ml

Ribonuclease(RNases)

N/A

<1pg/ml

N/A

<1pg/ml

Deoxyribonuclease(DNases)

N/A

<5pg/ml

N/A

<5pg/ml

RO反渗透纯水指标

Ion rejection rate

97%-99%(when using new RO membrane)

Organic matter retention rate

>99%, when MW>200 Dalton

Particle and bacteria retention rate

>99%

Feed water requirements

Tap water, temperature: 5-45°C, pressure: 1.0-4.0Kgf/cm2

Dimension and weight

500×360×540mm(L*W*H); 25Kg

Power supply

AC100-240V, 50/60Hz

Power

120W

Standard configuration

Host (including 1 set of purification column) + 15 liters pressure bucket + accessory package
*The value is affected by different temperatures, influent water quality, and total pollution of influent water.