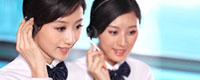 Name: Eric Chen
Tel: +86-535-8088266
Mobile: +86-18663815259
E-mail: info@starkinstrument.com
Skype: jackie.chan-chemins
QQ: 294772396




Product name : Online hydrogen bromide HBr gas detector

Product No. : FIX800-HBr
Details:
Brief Description
The FIX800 series online gas detector uses a high-performance intelligent gas sensor, which is a high-performance instrument that can continuously monitor gas online. The overall explosion-proof structure of the detector has high sensitivity and precision. The detector can realize real-time concentration display on the computer through the gas alarm controller and monitoring management software. It can also transmit real-time monitoring data and alarm status to the safety control center through the optional wireless module.
Main Features
◆ High-performance intelligent sensors, with a service life of more than 2-3 years.
◆ Using embedded 32-bit ultra-low power microprocessor, with short response time, small detection error and high resolution.
◆ Equipped with infrared remote control, menu operation can be carried out through the remote control, which can realize the operation without opening the cover in dangerous situations.
◆ Intelligent temperature, humidity and zero point compensation algorithm, full software automatic calibration function for target points above level 2 to ensure the accuracy of the measurement results; automatic detection of the working status of each sensor and component when it is turned on.
◆ 2.3-inch full-color display, large and clear background light can display measurement information under any lighting conditions; easy-to-understand UI color icon menu, 4-button navigation friendly user interface.
◆ Support free switching between PPM and mg/m3, %VOL and mg/L concentration units, and free switching between Chinese and English operation interface.
◆ Real-time data transmission, can accurately send out local and remote wireless alarm notifications in a variety of alarm methods (optional).
◆ First-class mechanical design, the air chamber adopts military-quality high-strength aluminum profiles, wear-resistant and corrosion-resistant, suitable for complex and harsh industrial environments, and reasonable and scientific air chamber design to ensure the accuracy of real-time sensor monitoring.
◆ Automatic storage, storage interval can be customized, 300,000 groups of data with date and time identification can be stored, if TF memory card is optional, it can store more than 10 million groups.
◆ The short-distance RTU wireless transmission method or the GPRS wireless transmission method of unlimited distance anywhere can transmit real-time detection data and alarm status to the security center through the built-in wireless module function (optional).
◆ The explosion-proof grade is Exd II CT6, certified by the National Explosion-proof Electrical Inspection Center.
Technical Parameters
Name

Online hydrogen bromide gas detector

Model

FIX800-HBr

Detection gas

Hydrogen bromide (HBr) gas in air

Working principle

Electrochemical

Detection range

0~20ppm, 0~30ppm, 0~50ppm, 0~100ppm, 0~500ppm (optional)

Resolution

0.01ppm(0~100ppm); 0.1ppm(0~1000ppm); 1ppm(>1000ppm)

Sampling method

① Free diffusion type——online continuous detection, free diffusion type detection method

② Suction type—the external air pump is equipped with a flow-through adapter for air inlet and outlet or a built-in air pump to realize the pump-suction detection method (air pump is optional)

Installation

Wall mounted, hold on pipe or insertion in pipe

Accuracy

≤±3% F.S.

Repeatability

≤±1%

Zero drift

≤±1%(F.S./year)

Response time

≤20s(T90)

Recovery time

≤30s

Power supply

12~30VDC

Power consumption

≤2.5 W(DC24V)

Pressure range

86~106KPa

Working temperature

-40℃~+70℃ (High temp is customized.)

Working humidity

10%-95%RH (Non-condensing)

Body material

Shell: ADC12 aluminum alloy, teflon paint, wear-resistant and corrosion-resistant (316 stainless steel housing is optional for complex and harsh environments)

Air chamber: adopts high-strength wear-resistant and corrosion-resistant aluminum profile, sturdy and durable (316 stainless steel air chamber is optional for complex and harsh environments), the outer screw thread of air chamber is M45*1.5

Signal output

①Three-wire 4-20mA current signal output, which can be connected to various alarm controllers, PLC, DCS and other control systems.

②RS-485 digital signal output, connect to RS232 adapter card to view the stored data on the computer.

③Two groups of relay high and low segment alarm switch output: passive contact, capacity 30V 1A, 125VAC 0.5A.

④ Voltage signal output: 0-5V, 0-10V signal output can be set by yourself (optional);

Transmission

①Three-core (four-core) shielded cable transmission: the farthest can be transmitted from 1000 meters to 2000 meters (single core 1 square shielded cable).

②Network port TCP/IP transmission: supports TCP/IP protocol, can be transmitted within 90 meters of network cable, and can be transmitted in real time through long-distance networking (optional).

③Optical fiber transmission: the maximum distance can be 20 kilometers to 40 kilometers (optical cable single-mode multi-core transmission, must be equipped with optical fiber MODEM), can be networked (optional).

④ Short-distance RTU433 wireless transmission: the transmission distance is 0 to 2 kilometers, depending on the transmission power and on-site environment (optional).

⑤GPRS wireless transmission: no distance limitation, built-in module, through telecom operators signal transmission, with SMS reminder notification function (optional).

Alarm method

Sound and light alarm (optional), alarm sound: <90 decibels

Alarm value setting

A1 alarm value, A2 alarm value

TWA alarm value and STEL alarm value can be set separately

Display

2.3" TFT color screen

Button

Remote control + four-button operation

Direct reading

Measurement value, maximum and minimum

Data storage

Automatic storage of data, the storage interval can be customized, can continuously store 300,000 groups of date and time data, optional TF memory card, can store more than 10 million groups of data.

Data download

Support RS485 serial port data download

Calibration

Target point calibration function, can set standard calibration value, one key to zero point.

Electrical connections

NPT3/4 internal thread (optional: 1/2NPT, G3/4, G1/2 internal thread)

Explosion-proof cable filler (optional)

Explosion-proof

Ex d II CT6 Gb

Protection

IP66

Operation mode

User mode, administrator mode

Dimensions

210mm(H) ×175mm(W)×85mm(T)

Weight

1.8Kg

Executive standard

GB15322.1-2003, GB3836.1-2010, GB3836.2-2010, GB3836.4-2010

QA

One year, maintenance free in warranty time
Installation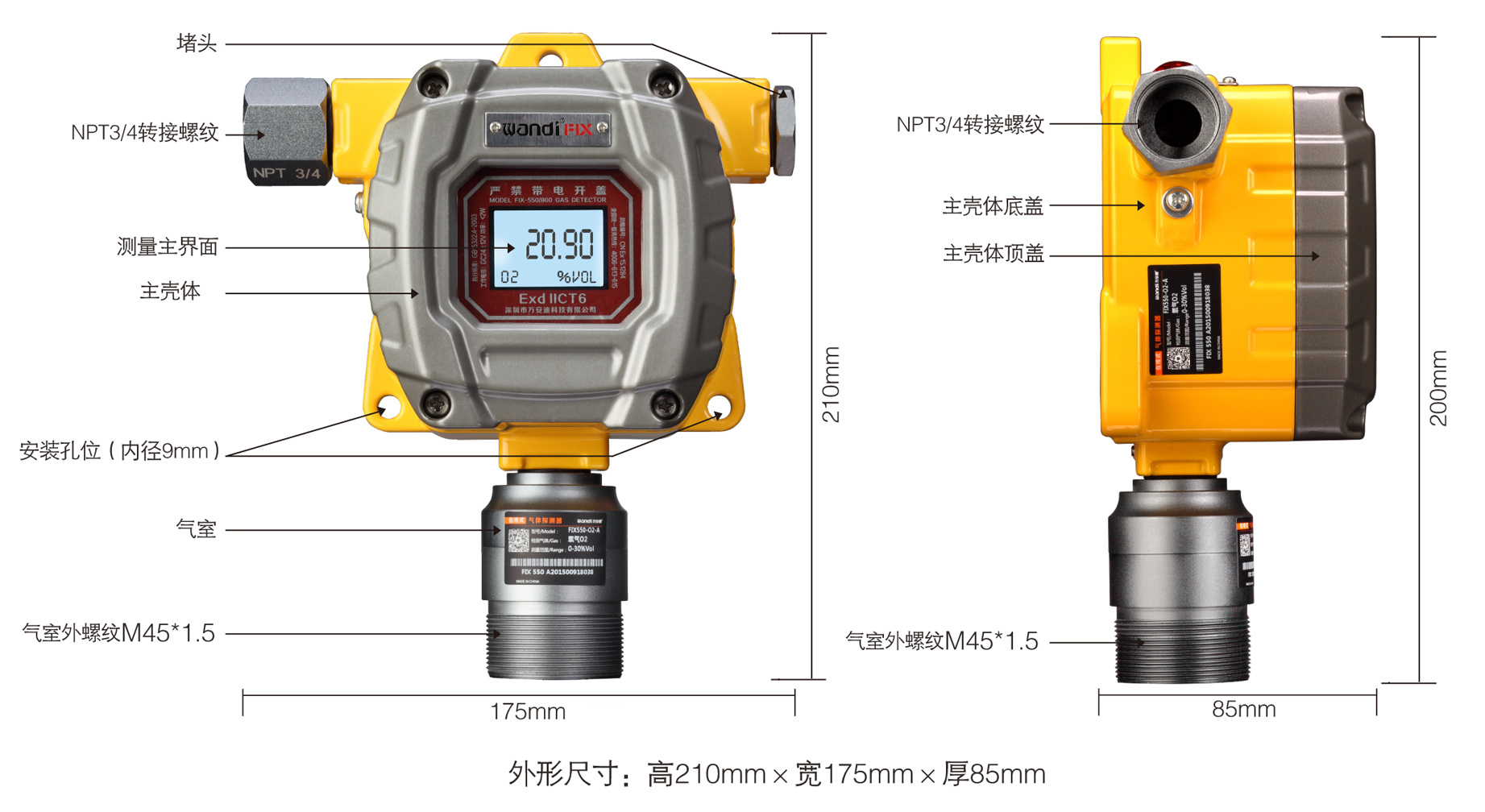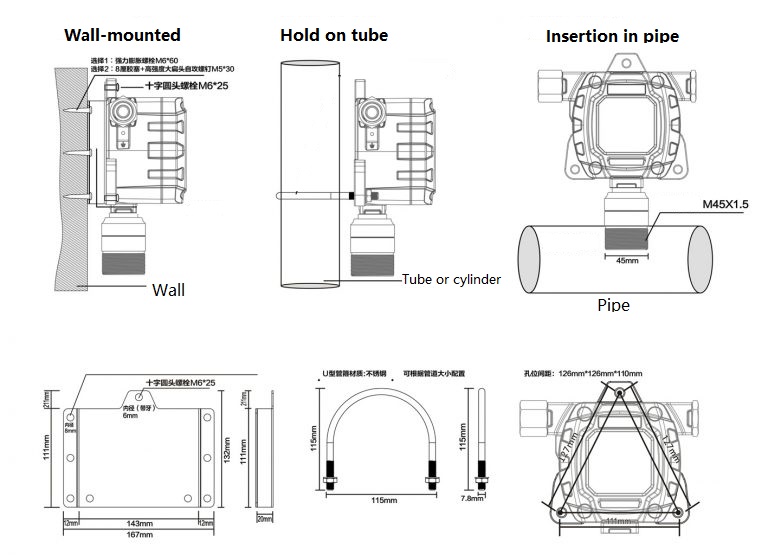 Product Configuration
Standard Configuration
| | |
| --- | --- |
| Name | QTY |
| FIX800 host | 1 |
| Remote control | 1 |
| User manual | 1 |
| Qualification | 1 |
| Warranty card | 1 |
Optional Configuration
| | |
| --- | --- |
| Name | QTY |
| Sound and light alarm | 1 |
| TF storage card | |
| Installation backplane | |
| Installation U type pipe clamp | 1 |
| Rain cover | 1 |
| 2A DC24V or 10A DC24V adaptor | 1 |
| Flow-through type air chamber adapter | 1 |
| Explosion-proof cable filler | 1 |
| Air pump | 1 |
| RTU-433 short distance wireless module | 2 |
| GPRS wireless module | 2 |